Mercedes-BENZ AMG GLE63 Coupe "mc900"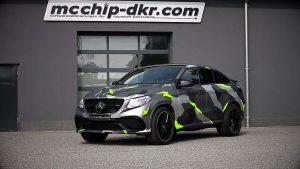 With the GLE 63 Coupé and the E 63 S, Mercedes-AMG is offering an all-wheel drive performance miracle, with 557 – 585 hp, out of a 5.5 liter V8-Biturbo.
This engine is generating 700 Nm twisting moment in stock performance (760 Nm in "S"- variant) and reaches an acceleration from 0-100 km/h of sporty 4.3 seconds with its seven-speed automatic gearbox.
We are going to increase the power a lot more.
Therefor a whole upgrade of the engine is required. Beside the change of stock connecting rods to H-shaft-rods, new main- and rod bearings, new seals, piston- and oil scraper rings, we are dedicating our attention to the turbochargers as well as the exhaust system.
The exchanged turbo chargers are requiring a total adjustment of the exhaust gas routing.
For this, our inhouse engineering department optimized a part of the exhaust system totally new.
Ambitious goal of this customization is cracking the border of 900 hp!